Suspended License? New Indiana Law Allows Specialized Driving Privileges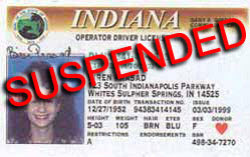 The loss of your driver's license, and a driver's license suspensions can effect your employment and your livelihood. Effective January 1, 2015, Indiana Law has provided what is called Specialized Driving Privileges, that allows various individuals who may have had a suspension of driving privileges (suspended license) ,a possibility of getting Specialized Driving Privileges by filing a Petition in a circuit or superior court in the county of residence of the driver.
You can learn more here.
[LoginRadius_Share]